Jackery Explorer 500 Portable Power Station is a 518Wh lithium Portable Power Station. It is one of the lightest and most portable rechargeable lithium battery generators on the market. Jackery Explorer 500 offers power-to-go, in a compact, lightweight design featuring multiple connections to charge your mainstream gear and more.
You are not tethered by a wire or a plug anywhere – carefree to go explore the great outdoors when you can run your appliances such as blender, pellet smoker, projector, and surveying instruments. It can also be used as an emergency backup power supply in the event of a power outage. It can supply power to light your lamps, laptops, phones, small fridges, CPAP, and other devices.
Jackery Explorer 500 Portable Power Station
Jackery Explorer 500 Features
Massive Capacity 518Wh: Jackery Explorer 500 is equipped with a 518 watt-hour (24Ah, 21.6V) lithium-ion battery pack. It features 1* AC outlet (110V 500W 1000W Peak), 3*USB-A ports, 2* DC ports, and 1*car port to power many appliances including mini-fridge, air pump, and TV from low power to high power with pure sine wave inverter.
Designed for Portability: The Jackery Explorer 500 portable power station is about the size of a basketball and has a solid handle. It's easy to carry, and its compact design makes the Jakery Explorer 500 perfect for enjoying RV camping and road trips.
Four Recharging Ways: With a built-in MPPT controller, Jackery Explorer 500 can easily get recharged with the efficient solar panel, Solar Saga 100W (sold separately) to provide green power. You can also use other flexible recharging ways with wall outlets, car outlets, and electric generators.
Professional MPPT technology provides faster solar recharge rates. With compatible solar power charging, the Explorer 500 portable power station can perform as a solar generator. It can be fully charged under straight full sun in 9.5 hours by connecting SolarSaga 100W solar panel. So you can have an unlimited power source from the sun and always keep charged on the go.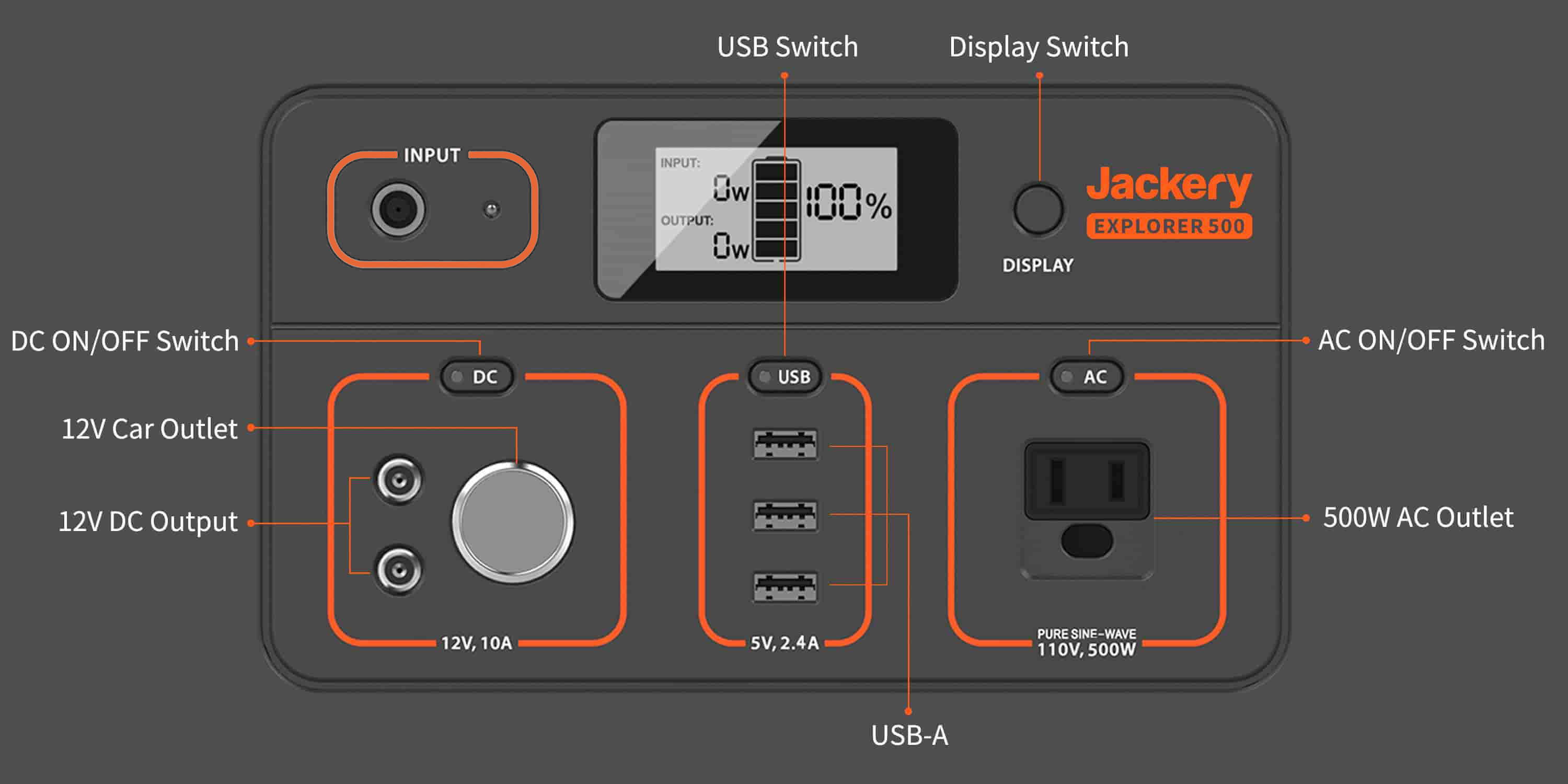 Four Ways To Recharge
Solar panel
Wall socket
Vehicle's 12V output
Electric Generator
Please Mind These While Solar Recharging:
Recharging time varies from a different location, temperatures, weather, etc. The actual time may be different.
During recharging, keep your portable power station away from heat and direct sunlight in order to extend its life span.
Jackery Explorer 500 Specifications
| | |
| --- | --- |
| Capacity: | 518Wh (21.6V, 24Ah) |
| Cell Chemistry: | Li-ion NMC |
| Lifecycle: | 500 cycles to 80%+ capacity |
| Management System: | BMS, Over Voltage Protection, Short Circuit Protection |
Jackery 500 Recharge Times:
AC Adapter: 7.5 Hours
12V Car Adaptor: 7.5 Hours
Electric Generator: 7.5 Hours
SolarSaga 100W Solar Panels: 9.5 Hours
Jackery 500 Ports:
AC Output: 110VAC, 60Hz, 500W (1000W Surge)
USB-A Output: 5V, 2.4A
DC Output:12V, 7A (6.5mm*1.4mm)
Car Output: 12V, 10A
DC Input: 12V-30V (100W Max)
Jackery 500 Product:
Weight: 13.32 lbs (6.04 kg)
Dimensions (LxWxD): 11.8 x 7.6 x 9.2 in (30.1 x 19.3 x 24.2 cm)
Operating Usage Temperature: 14-104F (-10-40℃)
Certification: FCC, ROHS, UN38.3
Warranty: 24 Months
Optional Accessory: Jackery SolarSaga 100W Solar Panel